Furry Festivities: A Guide to Keeping Your Pet Safe During the Holidays
The holiday season is a time of joy, celebration, and togetherness. As we decorate our homes, prepare delicious meals, and engage in festive activities, it's important to remember that our furry friends may not be as enthusiastic about the festivities. From tempting decorations to scrumptious treats, the holiday season poses unique challenges for pet owners. To ensure a safe and joyful celebration for your pets, here's a comprehensive guide to keeping them out of harm's way.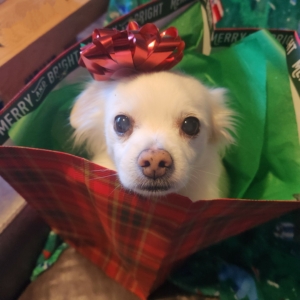 1. Deck the Halls with Pet-Friendly Decor:
While decking the halls with boughs of holly and twinkling lights, be mindful of your pet's curiosity. Tinsel, ornaments, and festive plants like mistletoe and poinsettias can be enticing, but they may pose serious health risks. Opt for pet-friendly decorations, and secure ornaments out of reach. Consider using pet-safe alternatives to traditional holiday plants to prevent accidental ingestion.
2. Away from the Table:
The holiday table is a tempting smorgasbord for our pets, but many of the foods we enjoy can be harmful to them. Keep chocolate, alcohol, bones, and certain fruits and nuts away from your furry friends. Educate your guests about the dangers of feeding table scraps to pets, and provide pet-friendly treats to keep them content.
3. Silent Night, Calm Pets:
Holiday celebrations often involve festive gatherings and loud noises. While fireworks may be exciting for us, they can be distressing for pets. Create a safe and quiet space where your pet can retreat if the festivities become overwhelming. Consider using calming products, such as pheromone diffusers or calming collars, to help keep anxiety at bay.
4. A Gift of Safety:
If you're exchanging gifts, ensure that none of them are harmful to your pets. Wrapping paper, ribbons, and small toy parts can pose choking hazards. Dispose of gift wrap and packaging promptly, and monitor your pet during gift-opening activities.
5. Watch the Candles:
Candles and open flames add a warm, cozy ambiance to holiday decor, but they can be hazardous for curious pets. Opt for flameless candles or keep traditional candles in secure holders out of your pet's reach. Never leave lit candles unattended, and extinguish them before leaving the room.
6. Traveling Tails:
If your holiday plans involve travel, take extra precautions to keep your pet safe. Ensure they are properly secured during car journeys and have familiar items, such as their bed or favorite toy, to provide comfort in unfamiliar surroundings. Update your pet's identification tags and consider microchipping if you haven't already.
The holiday season is a time for love, laughter, and shared moments with our pets. By taking a few simple precautions and being mindful of potential hazards, you can create a safe and joyful environment for your furry friends to enjoy the festivities alongside you. Remember, the best gift you can give your pet is a happy and healthy holiday season!
/wp-content/uploads/2023/04/logo-happy-scratch-dog-allergy-medicine-650.svg
0
0
Dr. Maria Dashek
/wp-content/uploads/2023/04/logo-happy-scratch-dog-allergy-medicine-650.svg
Dr. Maria Dashek
2023-10-29 21:00:13
2023-10-29 21:10:45
Furry Festivities: A Guide to Keeping Your Pet Safe During the Holidays