Why is my dog so perfect?
Do you ever look at your dog and think how perfect they are?  Maybe it is just me, but if my dogs are cuddled up and sleeping comfortably, all I can do is look at them and smile (see below for good vibes).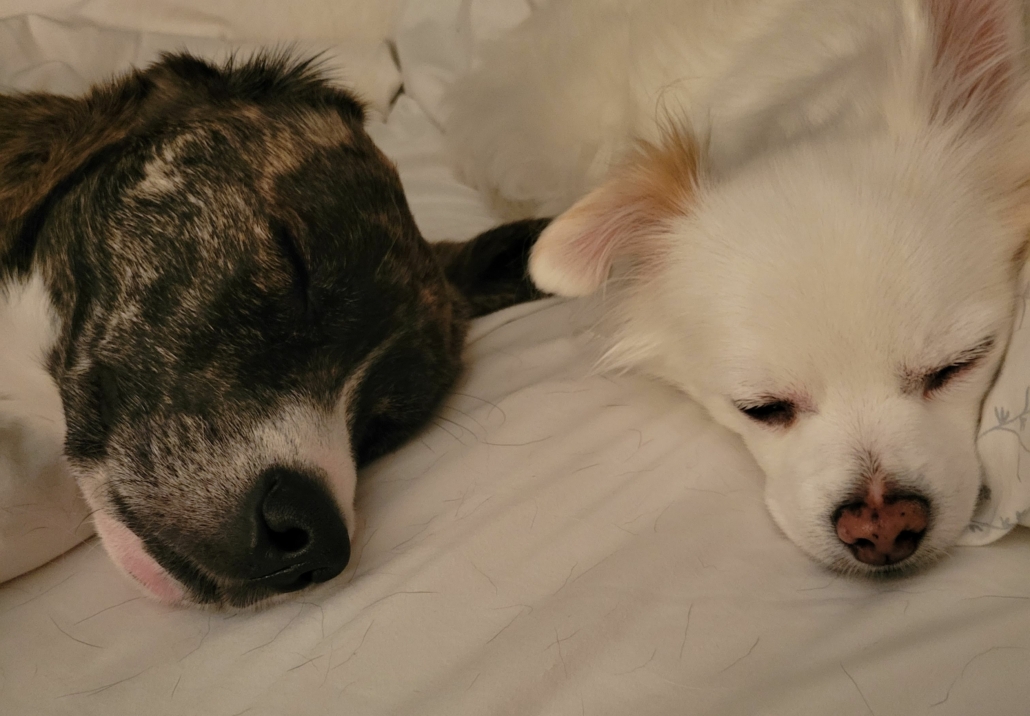 Dogs often exhibit qualities that make them beloved companions, such as loyalty, affection, and their ability to bring joy and happiness into our lives. Due to the strong emotional bond between owner dog parent and pet fur baby you may find yourself wondering, why is my dog so perfect? Here are a few reasons why your dog might seem perfect to you:
Unconditional Love: Dogs have an innate ability to love unconditionally. They offer affection and companionship without judgment, making us feel valued and accepted.
Loyalty: Dogs are known for their loyalty to their owners. They form strong bonds and are willing to protect and stand by their human companions through thick and thin.
Playfulness: Dogs have a natural inclination to play and have fun. Their playful nature can bring a lot of joy and laughter into your life, making them a source of endless entertainment.
Companionship: Dogs are excellent companions, providing emotional support and reducing feelings of loneliness. They are often attuned to our emotions and can provide comfort during difficult times.
Non-judgmental Nature: Dogs don't judge us based on our appearance, mistakes, or flaws. They offer a non-judgmental presence, creating a safe and accepting environment where we can be ourselves.
Intelligence: Dogs are intelligent animals and can be trained to perform various tasks and commands. Their ability to learn and understand human cues can make them appear even more perfect as they adapt to our lifestyle.
The love and positive qualities your dog exhibits can make them seem perfect in your eyes, enhancing the bond you share. The bond between you and your pet has been shown to have a positive impact on mental health. Pets provide companionship, reduce stress, and promote feelings of happiness and well-being. Interacting with pets can help lower anxiety levels and improve overall mood, contributing to a sense of calm and emotional stability. Cherish the furry, happy, moments with your pet and show your love by treating them with Happy Scratch.
/wp-content/uploads/2023/04/logo-happy-scratch-dog-allergy-medicine-650.svg
0
0
Dr. Maria Dashek
/wp-content/uploads/2023/04/logo-happy-scratch-dog-allergy-medicine-650.svg
Dr. Maria Dashek
2023-07-16 21:28:37
2023-07-15 07:29:51
Why is my dog so perfect?